Roseau River Watershed District
Overall Plan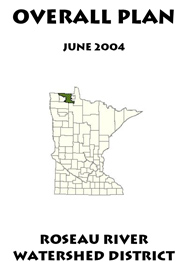 The information contained in th is overall plan was gathered from many sources, the most important being local input. During the development of this overall plan, the Roseau River Watershed Board of Mangers held meetings to gather concerns of local citizens. Advisory committees were formed and met monthly over 18 months to identify issues, concerns and solutions that address water problems in the Roseau River Basin. One group was a Citizen's Advisory Committee (CAC) and another group was a Technical Advisory Committee (TAC). Both of these committees worked very hard to identify problem s and offer solutions to im prove water management issues in the Roseau River Basin.
For additional resources please see some potential empoundment sites, Appendix 13, and the HEC-1 Hydrologic Model.